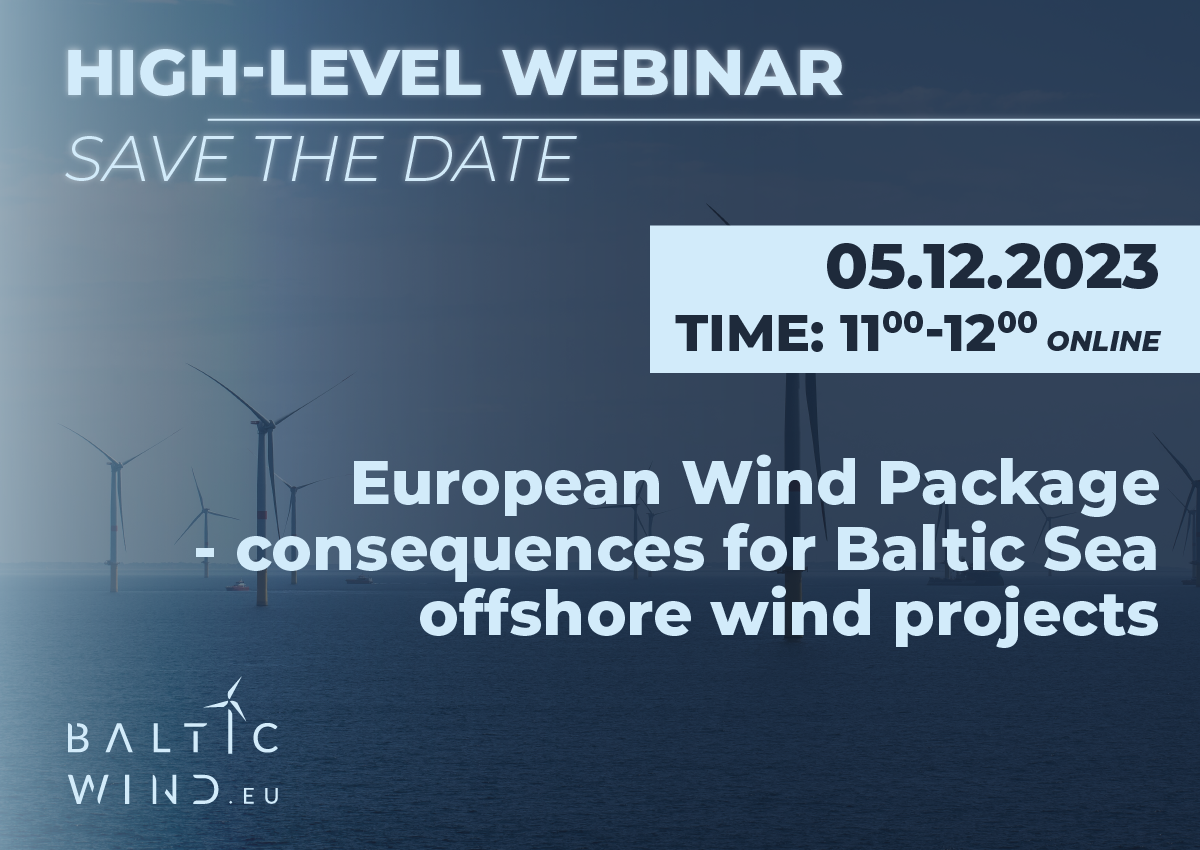 European Wind Package – consequences for Baltic Sea offshore wind projects


European Wind Package – consequences for Baltic Sea offshore wind projects
Description:
The recently unveiled European Wind Power Action Plan represents a significant milestone in the EU's commitment to achieving its ambitious renewable energy targets by 2030. This webinar is designed to meticulously dissect the Action Plan, shedding light on its strategic initiatives aimed at strengthening a resilient and competitive wind energy supply chain, with a particular focus on the unique characteristics of the Baltic region. Join a panel of seasoned industry experts as they explore the complex challenges and opportunities posed by the Action Plan, ranging from streamlining permitting processes to cultivating a skilled workforce and securing consistent financial support. The discussion is of paramount importance for the Baltic Sea region, providing a comprehensive platform for stakeholders to devise strategies to optimize wind energy potential amidst the region's distinct challenges and opportunities.
This dialogue is more than just an analysis of the Action Plan; it is a crucial step towards aligning the Baltic wind energy sector with broader EU objectives. It aims to create a collaborative environment to address obstacles and capitalize on synergies between European and regional goals. By examining strategies to improve auction designs, enhance project pipeline visibility, and alleviate supply chain constraints, this webinar seeks to pave the way for increased cooperation, innovation, and sustainable growth within the Baltic wind energy ecosystem. Participants will gain an in-depth understanding of the plan's initiatives, underscoring the vital role of the Baltic Sea region in propelling Europe towards a more sustainable and greener future.
**Key Topics**:
– Expedited Permitting: Analyzing its impact on project timelines and strategies for quicker approvals.
– Financing Opportunities: Exploring EU support for wind energy manufacturing and ways to attract necessary investment.
– Workforce Development: Discussing strategies for upskilling and reskilling to build a competitive wind energy sector.
– Auction Design Optimization: Ensuring the rewarding of high value-added equipment and the full and timely realization of projects.
– Addressing Supply Chain Challenges: Identifying solutions to fuel growth in the Baltic wind energy sector.
– Enhancing Project Pipeline Transparency: Promoting clear auction schedules and long-term planning for improved stakeholder engagement.
– Regional Synergy: Cultivating partnerships to expedite the deployment of wind energy in the Baltic Sea region.
**Agenda**
Opening Remarks and Introduction by BalticWind.EU

Panel Discussion: Exploring the European Wind Power Action Plan and its Implications for the Baltic Sea Region

Q&A Session: Interactive Dialogue with Industry Experts and Panelists

Closing Remarks and Future Outlook by Moderator Paweł Wróbel,  Managing Director of BalticWind.EU.
The debate will be broadcasted live on the BalticWind.EU channel on YouTube, LinkedIn and Twitter.
Register your participation in webinar
Register your participation in webinar