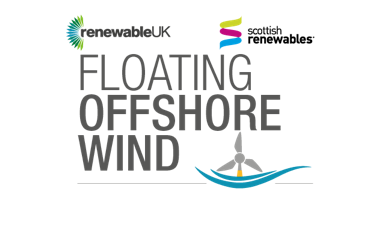 FLOATING OFFSHORE WIND 2021
September 15, 2021

-

September 16, 2021
Conference & Exhibition | 15 – 16 September | P&J Live, Aberdeen | Organised by RenewableUK & Scottish Renewables | #FloatingWind21
Floating wind is on the cusp of a huge transformation as it moves from pilot projects to commercial sized wind farms.
What infrastructure, technology and market developments will unlock the necessary cost reductions and accelerate floating offshore wind deployment?
RenewableUK and Scottish Renewables Floating Offshore Wind event is the essential update charting progress in a crucial year of auctions and announcements. Connect with experts and expand your network as the industry comes together to discuss the next steps for floating wind.
Join us at #FloatingWind21, 15-16 September in Aberdeen, where we will be bringing together the UK's floating offshore wind market for a two-day hybrid conference, exhibition and networking..

Top reasons to attend #FloatingWind21:
Evaluate the global floating wind market and understand the unique, region specific challenges
Hear important project updates and opportunities from developers
Discover how technical improvements in the supply chain are contributing to cost reduction
Market Intelligence – Special reports, Project Intelligence and industry publications to help guide your business strategy available from the RUK and SR booths.
Interactive Sessions – Engage with speakers directly via Zoom or Sli.do and the event app
Business Partnering – Maximise your event outcomes with a schedule of 1:1 client/ supplier meetings using the delegate list
Network and join exhibitors; speakers and delegates at the official drinks reception and side events