Europe wants wind power capacity to increase from the current 190 GW to 510 GW by 2030. This means a large increase in the number of investments to be made in the near future. Consequently, the importance of education and labour market challenges will clearly increase. As WindEurope points out, in just eight years the European wind industry will need to fill at least 150 000 new positions in to the current 300 000 in the industry.
The challenges of preparing the labour market for a modern economy were highlighted by the President of the European Commission, Ursula von der Leyen, when she presented the new 'Green Deal Industrial Plan' initiative on the 18th of January this year. One of the four pillars of the plan to build the Union's industrial leadership is to prioritise building competencies and skills for the green economy.
The importance of education and labour market needs has been signalled by the industry for a long time. WindEurope points out that the rapid development of offshore creates specific challenges. Already today, managers, engineers and technicians are in high demand across Europe and filling vacancies is difficult. With members representing the entire value chain, ranging from wind farm developers, turbine manufacturers, component suppliers and power companies to financial institutions, research institutes and national wind energy associations, the association sees the labour market challenge as growing.
That is why the wind industry is involved in a number of initiatives to help meet these challenges. The first step was to analyse the skills needed in the wind sector in order to assess demand and standardise training at European level. Educational institutions, universities and training centres have collaborated with wind energy companies and industry associations such as WindEurope to carry out this task. EU-funded projects like SKILLWIND have helped to develop training modules and programmes based on these findings. Several organisations now offer vocational training in wind energy, including teacher training and health and safety training.
Another important set of initiatives is related to education. The wind industry needs to inspire the talents of the future. That is why WindEurope has launched LearnWind, an online hub containing a range of educational materials for children of different age groups. Younger children can learn about climate change, renewable energy and the operation of wind turbines through an illustrated book 'Let The Wind Blow', available in more than 30 languages. Older children and young people can read inspiring stories of 21 people working in the clean energy sector in a new book 'When I Grow Up' – from why they are passionate about their work to what subjects they studied and what skills they need to do what they do now.
The books also aim to encourage girls to consider a career in the renewable energy sector. Despite some progress in terms of gender balance, much remains to be done: of the 1.2 million people working in wind energy worldwide, just over a fifth are now women.
Much in the way of education for the wind industry is also happening in Poland. With Poland's offshore potential in the Baltic Sea estimated to be as high as 33 GW, there is a need for a significant increase in qualified personnel. Without this, efficient project implementation will not be possible. Initiatives such as the EDU OFFSHORE WIND trade fair in Gdańsk come up with an answer to these challenges. This is the first event on such a scale dedicated to offshore wind energy in Poland. For two days (14-15 March) young people will be able to get to know exhibitors from the broadly defined offshore industry, talk to representatives of employers, manufacturers, training centres, industry organisations or universities, who will be present at the stands. A so-called 'inspiration zone' is also planned. It will include a series of events in an interactive form. The aim is to encourage young participants to take an interest in the offshore industry.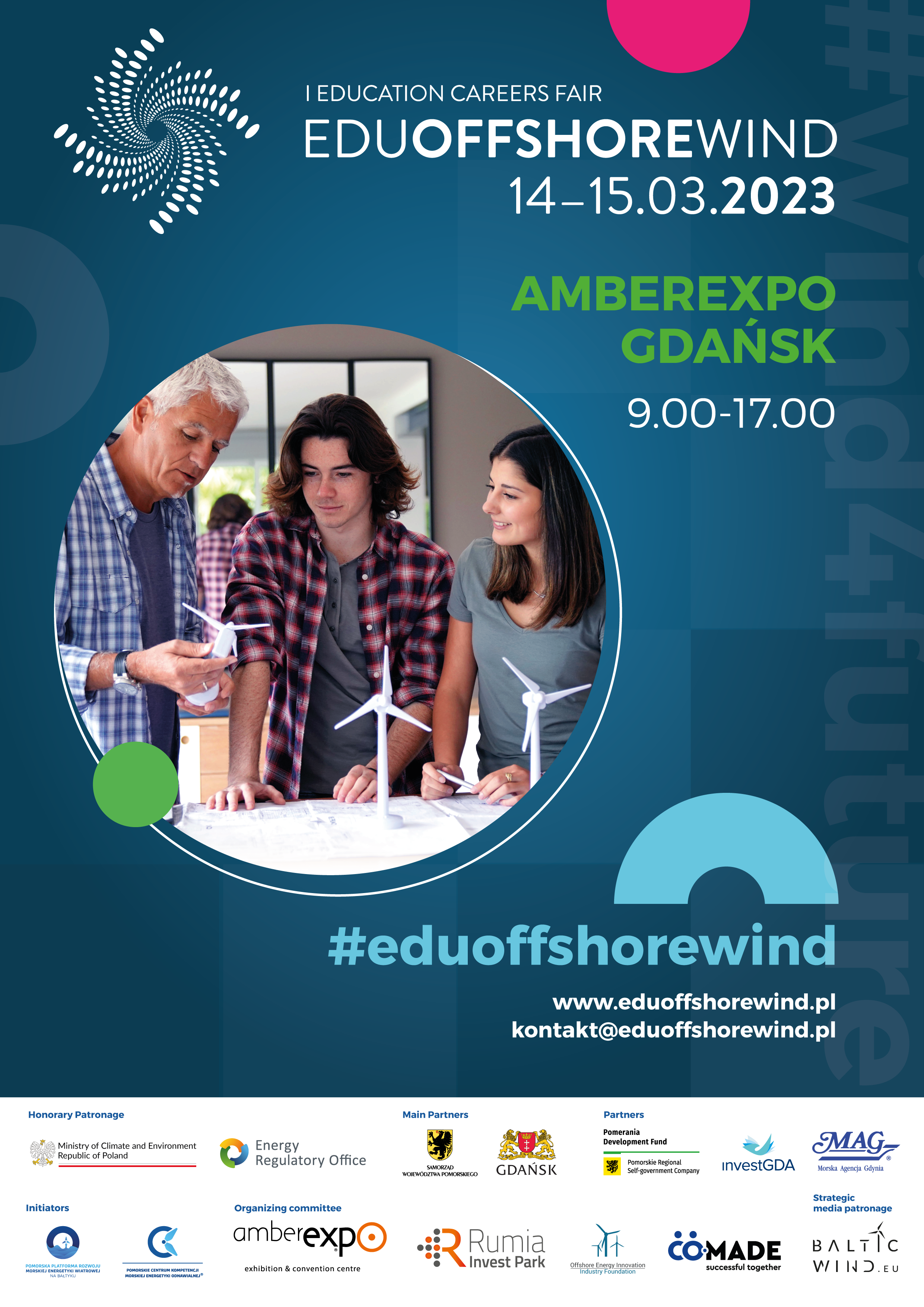 A special handbook will be prepared for young people with a description of offshore professions, necessary competences and certificates. Offshore wind energy companies will also be presented. Moreover, there will be themed islands at the fair, with many interactive attractions such as special climbing walls and VR simulators. There will be case studies with people from the offshore wind industry, who will talk about how they got started in the sector, what the benefits are and what advice they have for students who would like to tie their career to offshore wind. There will be opportunities to take part in industry workshops, soft skills workshops and even cooking demonstrations! There will also be competitions with prizes for young people and schools for active participation throughout the programme.
The fair is the culmination of an educational programme, which included classes in Pomeranian schools on the labour market in the offshore sector. The educational programme is part of an initiative by the Pomeranian Centre for Offshore Energy Competence in Rumia, which initiates activities aimed at preparing personnel for the industry.
This topic is also being signalled in other countries around the Baltic Sea. For example, the Finnish Wind Energy Association and Finnish Energy have joined forces to promote wind energy education pathways in vocational schools. There is a lot going on within local governments to establish training centres for wind energy. As the association points out, there is a particular shortage of wind energy technicians in Finland. Their work includes service and maintenance of wind power plants, inspection of wind turbine components, repairs, electrical and mechanical work, customer service, etc. The work is done in pairs and the profile includes working at heights, but also computer work and English language skills.
The wind energy sector encompasses a wide range of different tasks, from project planning to transport, ecological assessment and much more, so there are evidently several paths to work in the industry. The Finnish Wind Energy Association has prepared several videos and presentations introducing jobs and careers of the wind energy industry. These materials are primarily aimed at students graduating from primary or secondary school and those who are thinking about where they would like to work in the future.
The importance of such activities is underlined by the fact that 2023 has been designated as the European Year of Skills.