Global developer Ocean Winds and the port manager, Szkuner Sp. z o.o., have established a preliminary agreement for the lease of land and wharf in the port of Władysławowo, Poland. An operations and maintenance base for the maintenance of the BC-Wind offshore wind farm will be established here.
BC-Wind is an offshore wind farm with a capacity of up to 399 MW, located approximately 23 kilometers north of the coast at the height of the Krokowa and Choczewo municipalities. Ocean Winds plans to begin commercial operation of the BC-Wind wind farm in 2027.
The selection of Władysławowo took place with the full support of the Poviat Starosty in Puck. On an area of 3000 m2 located at the unloading quay and passenger pier, an operations and maintenance base for the maintenance of the offshore wind farm will be created. The agreement concerns the delimitation of two areas: a warehouse and logistics site with an area of 3000 m2 and a quay about 60 m long.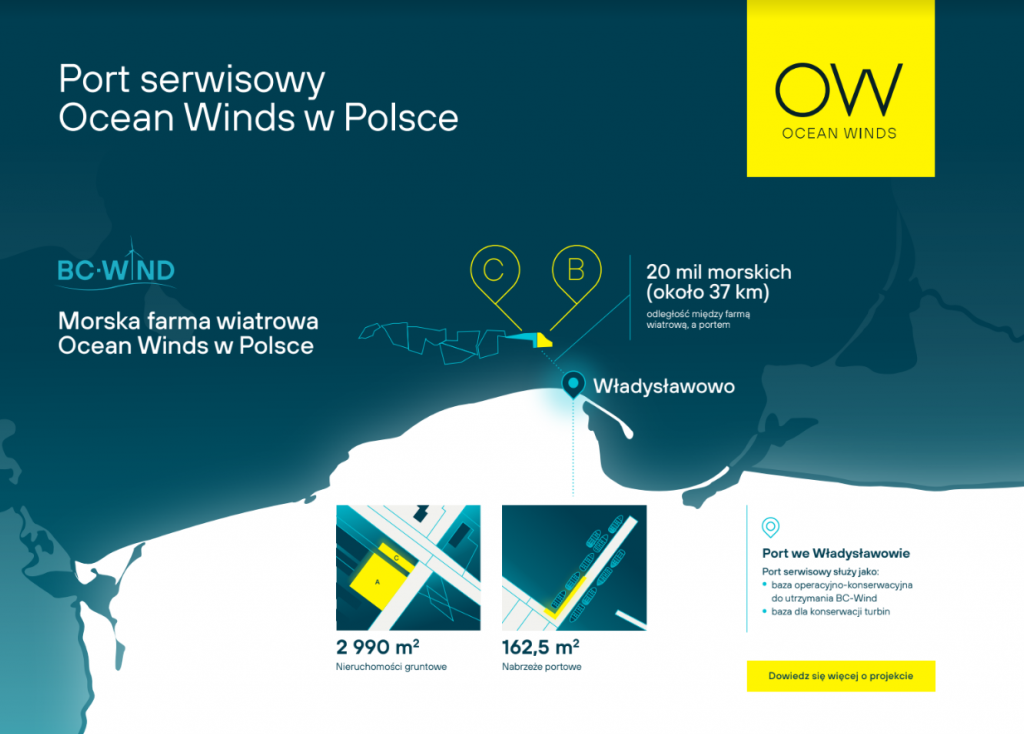 Kacper Kostrzewa, Director of the BC-Wind project carried out by Ocean Winds in Poland, emphasizes that the proper location of the service base is a key factor determining the efficiency of wind farm operation and stability of energy supply.
"The location in the port of Władysławowo meets all our expectations, among others, in terms of the distance from the offshore wind farm and thus the response time of the service teams", adds Kostrzewa.
The service port in Władysławowo will be an integral part of the service base for the BC-Wind project, servicing approximately 31 wind turbines located approximately 36 km from the port. The route from the port to the farm area is 20 nautical miles and will take about 75 minutes (at about 16 knots). The port will be both a base for servicing the wind turbines and an important facility for the project not only during the operational phase but also during the construction period.
"The signed preliminary lease agreement is a new chapter for the port in Władysławowo and our company. We will be one of the few ports in Poland, serving wind farms in the Baltic Sea", said Witold Wawrzonkoski, CEO, President of the Board of Szkuner, the administrator of the port in Władysławowo.
The investment in Władyslawowo is expected to bring both local supply chain and employment opportunities to the city and the entire region in the strongly growing offshore energy industry around the Baltic Sea.