Following the 'Suppliers Day' for the BC-Wind project, held on 13 September in Gdansk, we are publishing Ocean Winds' experts' responses to questions raised by potential suppliers to the offshore industry.
The following information provides a better understanding of the rules governing the market for suppliers of goods and services – not only for the BC-Wind project, but also for Ocean Winds' other worldwide investments. The potential for collaboration is underlined by the fact that OW's portfolio currently includes 15 projects in the operational, development and construction phases with a total capacity of 16.6 GW in seven geographical regions.
What are the quality requirements for aggregates?
We have made the decision to change the foundations to jacket and are currently in the process of analyzing how we will protect them. We are considering aggregates with a 60mm-180mm fraction, but we need to finish the analysis and check the conditions at our OWF sites. We are also considering using aggregates as a protection method for both inter-segment and export cables.
What are the criteria for corrosion protection, steel structure protection and fire protection?
We expect CX protection with high durability and systems life of 35 years, because that's the operational life we assume for the project. These are the protections as far as the above-water part is concerned. As for the underwater part, we are betting on IM4 with anodic protection. We are in the phase of analyzing what kind of anodes we plan to use in the project. We are considering both passive and active.
Our company deals with anodes for steel corrosion protection. Do you prequalify such suppliers, or will you leave it to steel structure manufacturers to purchase?
We are open to dialogue with suppliers. There is a question of economic calculation here. We are currently in the process of prequalifying suppliers for various components, including anodes. We would like to have these systems in larger project "packages," while we know the conditions in which the market operates. If a company is able to provide a system that is qualitatively acceptable to us, we are open to discussion and possible exclusion from a larger design package. We encourage direct contact and potential cooperation.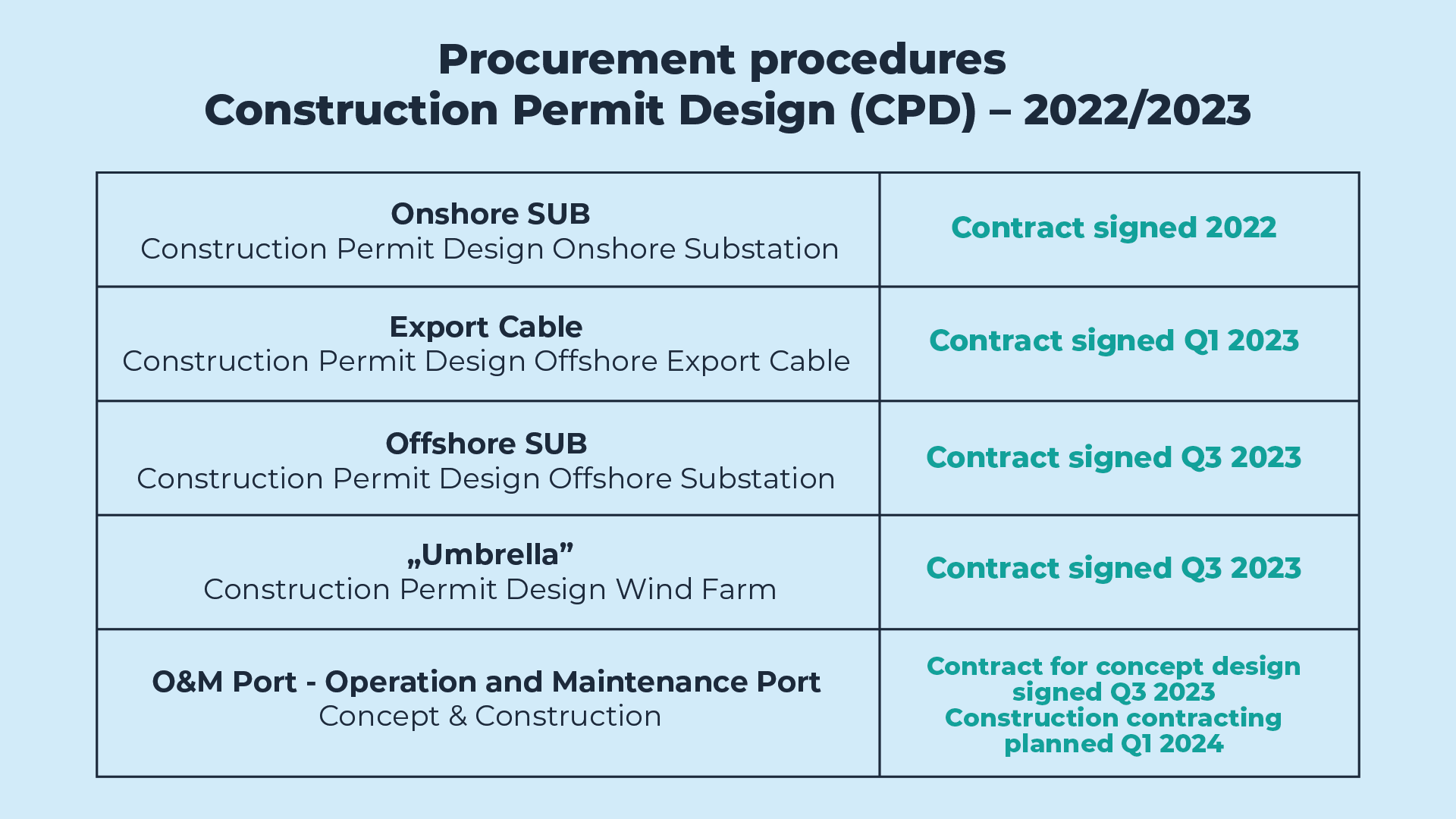 While building a local supply chain, is OW interested in establishing cooperation with Polish companies planning to expand their business to include maintenance of mechanical parts of wind turbines?
It is worth making it clear that we service not only the turbines themselves, but also other components such as offshore and onshore stations. We are open to cooperation with companies offering such services. We are considering using outside contractors for maintenance after the initial years, when maintenance is done by wind turbine manufacturers.
Do you plan to use precast concrete platforms in this or other future projects?
For this project, we have chosen jacket foundations and are not considering concrete platforms. However, other OW projects may consider such concrete solutions.
When is the FID expected and what is the latest acceptable start date for the project?
FID is planned for the end of next year and we do not see any threats to the deadline at this time. As for the latest date for commissioning the project from a regulatory perspective, it is 7 years after the final support decision. We don't have this decision yet, which means that this is rather far on the horizon. We plan to launch the project as soon as possible, with a planned commercialization date in 2027. We are not planning delays for today. But as with the FID, these deadlines may slip. In certain situations, it could be 2028. We are currently sticking to the schedule.
Recently, we have seen some delays in offshore wind farm projects due to the viability of project financing. Is there a risk of project closure or delay?
To answer briefly: no. Of course, OW like other offshore projects in Poland and around the world is feeling the pressure of the market. So far, our project is being developed on stable assumptions. Therefore, we do not see any threat or risk that the project will be discontinued or suspended.
How does the support mechanism in place in Poland act as a stabilizing factor compared to other projects in other markets?
The support mechanism in Poland is very similar to those in other markets. There are some important differences, but in general, the support mechanism in Poland acts as a stabilizing factor. In the first stage of the project, support was granted in a non-competitive manner. With regard to other projects, these systems are very different. Sometimes they are non-existent. In the case of the Polish system, in the second phase it will be an auction-based system.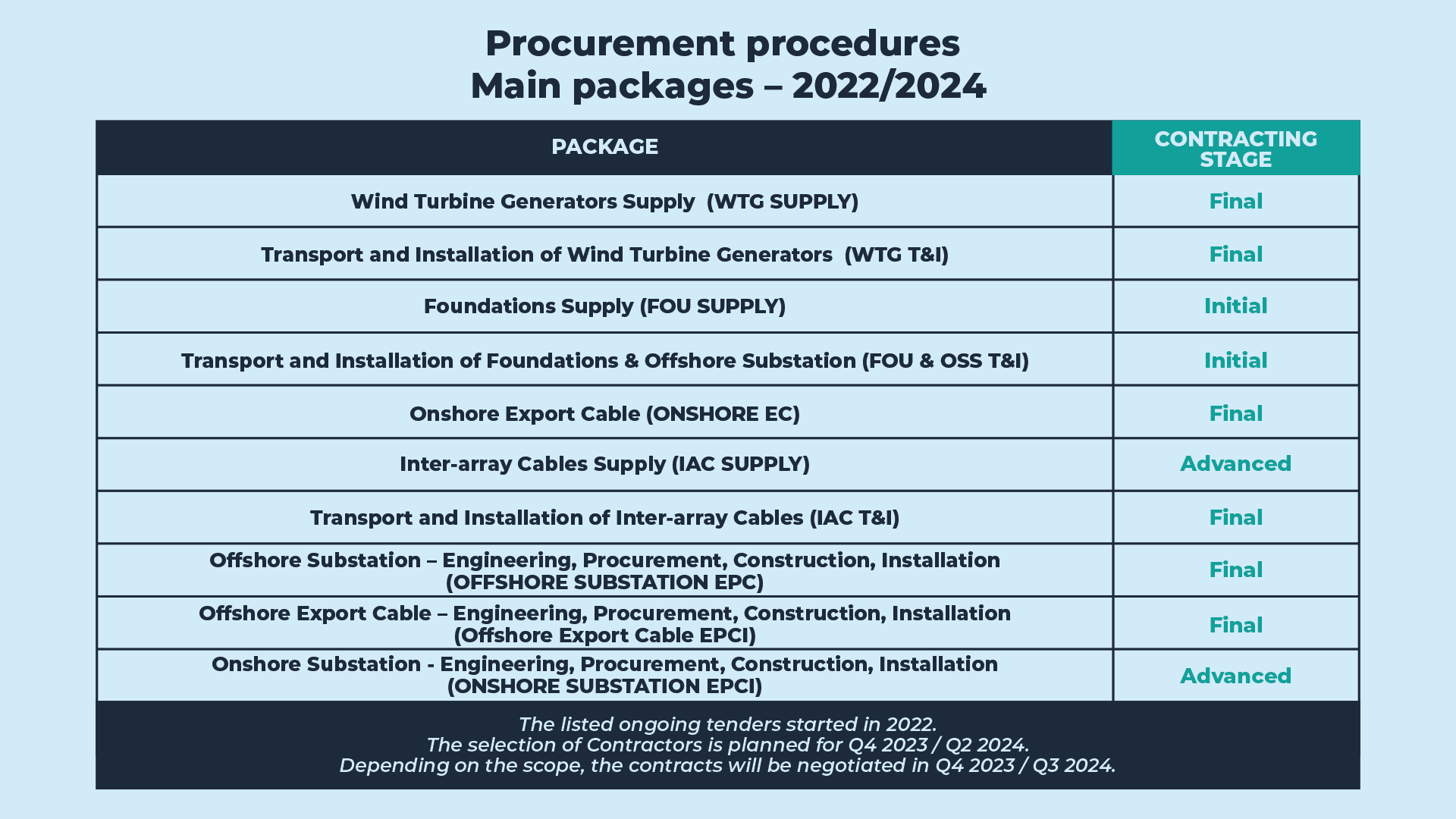 What are the operating voltage levels on the turbines and where are the measurements taken?
Voltage levels from the low voltage are raised to 66 kilovolts and then transferred to the offshore substation to 220 kilovolts. It then goes to the onshore substation and is raised to 400 kilovolts. The procedure is as follows: testing done twice after installation. After the mechanical tests are accepted, one has to move on and conduct a 10-day operational test of each turbine. Then there are overall tests onshore at the PSE grid connection site.
Is a SCADA system being considered for the BCB project?
The so-called TOP SCADA system is present in our company in the corporate department. The SCADA system integrates all the projects that are in progress. That's why we don't need TOP SCADA in a broader scope. If any company would like to encourage us to make a different solution or modification, please contact us.
To what extent, besides blades, are composites used in projects?
To a small extent. Thinking about where we could potentially use such materials, the only thing that comes to mind is the grilles on the platform. But for the main structural components, we are not considering composites.
When will the tender for cable supply be issued and what is the contracting scheme? Supply only or Turnkey – supply and installation?
We will be launching the tender for cable supply – its final phase – in the coming weeks.
Do you intend to issue separate packages for offshore substation and foundation? If yes, what are the timelines?
The two scopes are separate, offshore substation and offshore substation foundation are different "packages". Both tenders are already underway.
Is it possible to know which are the bidders in the competition for the cable supply and installation today so we can approach them?
We cannot share such information.
Which are the supply packages to be tendered as per today?
The last tender we are organizing is for foundations, it is at the preliminary RFI stage.
Questions regarding ELBE Challenge: #1 Please confirm the scope of the project Jan 2024 – Dec 2024. #2 Is there a budget for pilot 2024 beyond ELBE 60kEUR?
Please follow our website and social media for further announcements regarding 2024 activities and plans.
Will the export cables utilize HVAC or HVDC technology?
HVAC (high voltage alternate current)
Who should I contact for innovation / digitization / supporting software at OW?
Stakeholders Manager Aleksandra Jampolska
What are the local content requirements for this project?
All the local content requirements are presented in our Supply Chain Plan available on the BC-Wind website.
What are the expected parameters of the turbines? Power, blade span diameter
We are in the process of selecting a turbine supplier, we will provide exact parameters once the supplier is selected.
Regarding consultancy in Contract and Claims Management, do we anticipate any procurement within that scope for 2024?
Please register in our suppliers database as a first step.
We are a recruitment agency. What is the process for us to be invited for a tender?
We are very interested in having dialogue and offering our services.
Please register in our suppliers database as a first step.
Link to the Suppliers Day webcast: https://balticwind.eu/pl/ow-suppliers-day-2023/