German electricity system operator 50Hertz announced that it has received the final, long-awaited approval for its Ostwind 2 infrastructure project in mid-September 2021. The operator received the decision for a 700-meter cable section connecting the Arcadis Ost 1 transformer platform.
Ostwind 2 is a project by German operator 50Hertz designed to connect the Arcadis Ost 1 and Baltic Eagle offshore wind farms to the German transmission grid. For this purpose, three offshore cable systems are being laid in the Baltic Sea. The cable routes are 85 km (Baltic Eagle) and 95 km (Arcadis Ost 1) long. They start at the Arkonasee and Westlich Arkonasee clusters and end at the 50Hertz transformer station in Lubmin, the operator's website reads.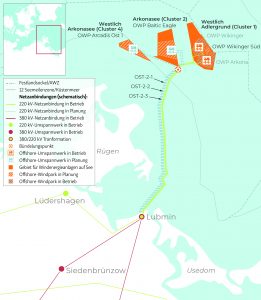 Ostwind2 Photo: 50Hertz
The approval authority is the Ministry of Energy, Infrastructure and Digitalization of Mecklenburg-Western Pomerania. The 50Hertz project team can therefore start laying the marine cable on this section of the route as well, once the expected approval has been obtained.
Arcadis Ost 1, a wind farm by the Belgian company Parkwind, is located in the western Arkona Sea. Baltic Eagle, a project by Spanish energy company Iberdrola, is located in the Arkona Sea cluster. Together, the two wind farms should generate a total capacity of 725 MW.
Source: 50 Hertz