BalticWind.EU Country Report POLAND / Q1 2022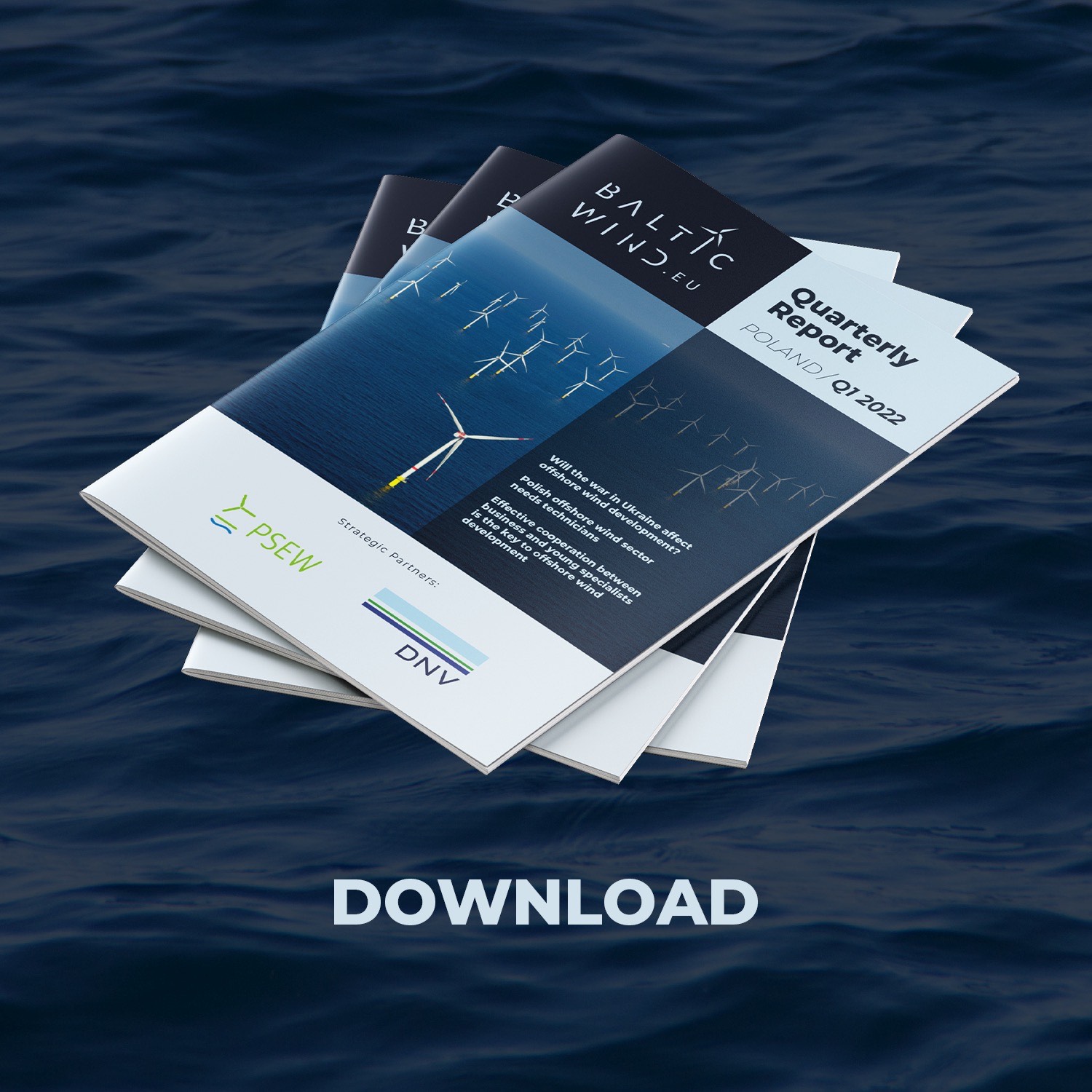 Dear Readers, 
It is my pleasure to present to you the next in a series of reports summarising the Polish offshore wind energy market. In the passing quarter energy topics were dominated by the war in Ukraine triggered by Russia. Since the beginning of the Russian aggression, as BalticWind.EU, we declare our solidarity with fighting Ukraine. 
The ongoing war has a huge impact on redefining the energy policy priorities of the European Union. Decisions made in Brussels and in capitals of member states, including Warsaw, indicate the necessity of accelerating decarbonization, which must firstly include moving away from fossil fuels from Russia. This is accompanied by plans for faster development of renewable energy sources, including offshore wind farms. The European Commission, in a REPowerEU announcement, estimated that increasing the rate of commissioning of wind and solar capacity across the EU by 2030 is key to reducing demand for Russian fuels. It will reduce consumption by more than 190 m3 of gas. The priority of energy security becomes even more apparent. In this context, progressive work in the implementation of further projects is important, as well as the preparation of national legislation. 
As announced in previous reports, we are closely following the implementation of the Polish sector agreement for offshore wind energy, the so-called "Sector Deal". One of its pillars is to create a large number of attractive jobs. In the current issue of the report we show how the labour market is prepared for the challenges associated with the construction and maintenance of wind farms. The investments create great opportunities to create new jobs, however, it is necessary to properly prepare the education and vocational training sector as well as to involve investors. It is necessary to cooperate with local and regional authorities where most of the investments will be realised. We highlight ongoing projects and activities including, among others, the involvement of the Pomeranian Offshore Wind Energy Competence Centre in the preparation of secondary school education, and highlight the growing offer of offshore wind energy studies, including Poland's first MBA studies, of which BalticWind.EU is a media patron. The course is organised by the Offshore Wind Energy Centre at Gdynia Maritime University in collaboration with the University of Applied Sciences Bremerhaven and the Business Academy SouthWest. The rapidly growing sector of companies offering GWO training necessary to work in the offshore sector, is also recognised. Polish companies and universities such as Vulcan, Windhunter, and Gdynia Maritime School are among the leaders in this sector. This is the result of their extensive work. It is worth following their example as investing in staff development requires consistency and long-term actions.
I encourage you to read on it!
Paweł Wróbel
Managing Director, BalticWind.EU
Please share your email address below to receive the BalticWind.EU  Quarterly Report POLAND Q1 2022 into your mailbox.