BalticWind.EU Country Report POLAND / Q3 2022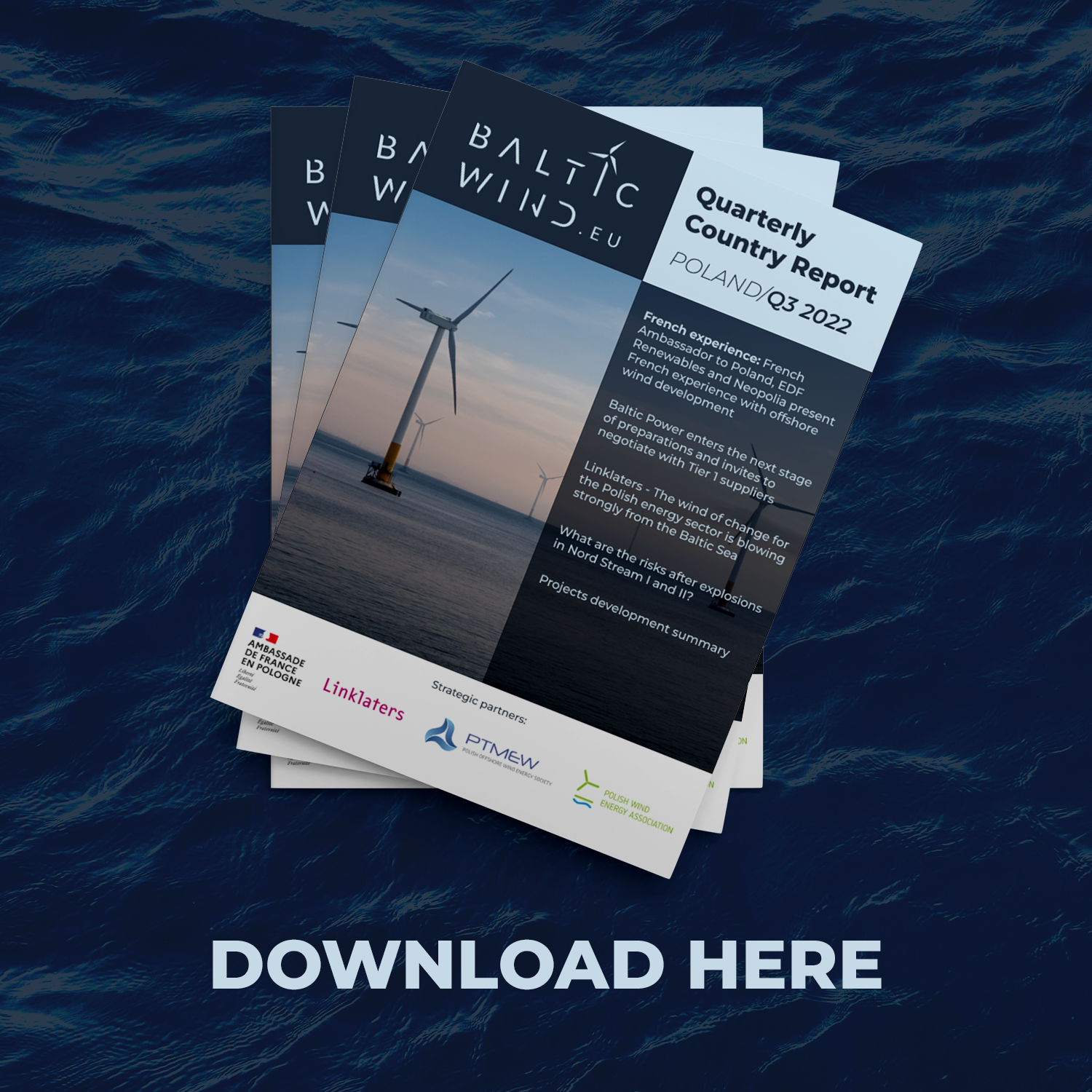 Dear Readers,
I am pleased to present to you the next in a series of reports summarising the Polish offshore wind energy market. In Q3 2022, energy topics were dominated, on the one hand, by initiatives emphasising the need to accelerate the construction of offshore wind projects to strengthen energy security in response to Russia's war in Ukraine. On the other, in response to the ongoing energy crisis, which fills energy markets with a fair amount of anxiety, affecting consumers, energy producers and those investing in new wind capacity projects. The topic of security of energy infrastructure in maritime areas is explored in an article by Rafał Miętkiewicz, PhD, Assistant Professor at the Polish Naval Academy of the Heroes of Westerplatte in Gdynia, written after the explosions at Nord Stream I and II.
From the outset, we have paid particular attention to the need to transfer best practices from the most experienced markets to the Baltic. This is extremely important given the still small number of operational wind farms in the Baltic Sea (around 2.8 GW of installed capacity) and yet extremely high expectations (almost 20 GW in 2030). Those expectations were formally confirmed in a declaration signed in August this year, Marienborg, Denmark, by the 8 Baltic Sea States. The content is approximated in one of the texts published in this report.
With this in mind, in the current edition we begin a series in which we will zoom in on experiences from the most mature markets. We start with France, which has built a strong sector from the ground up over the last dozen years. There, universities, regional and local companies, as well as leaders with a global presence, such as EDF Renewables and Chantiers de l'Atlantique, have a solid place. We were able to learn about their experiences and discuss them during the first Polish-French Offshore Day, which we, as BalticWind.EU, were proud to co-organise in Gdańsk in cooperation with the Pomeranian Platform for the Development of Offshore Wind Energy and the Starter Incubator
I would like to thank the French Embassy in Poland for its patronage of the report and I strongly encourage you to read the interview with the French Ambassador to Poland, Frédéric Billet.
As announced in previous reports, we are closely following the implementation of the Polish sector agreement for offshore wind energy, the so-called 'Sector Deal', and the development of individual projects. Par-ticularly noteworthy is Baltic Power, which was the first to announce the contracting of all Trier 1 suppliers as we reported in the past quarter. The offshore wind market needs such positive news. Hopefully they will have a mobilising effect on all participants, including the regulatory environment.
I encourage you to read on!
Paweł Wróbel
Managing Director, BalticWind.EU