BalticWind.EU Country Report POLAND / Q4 2022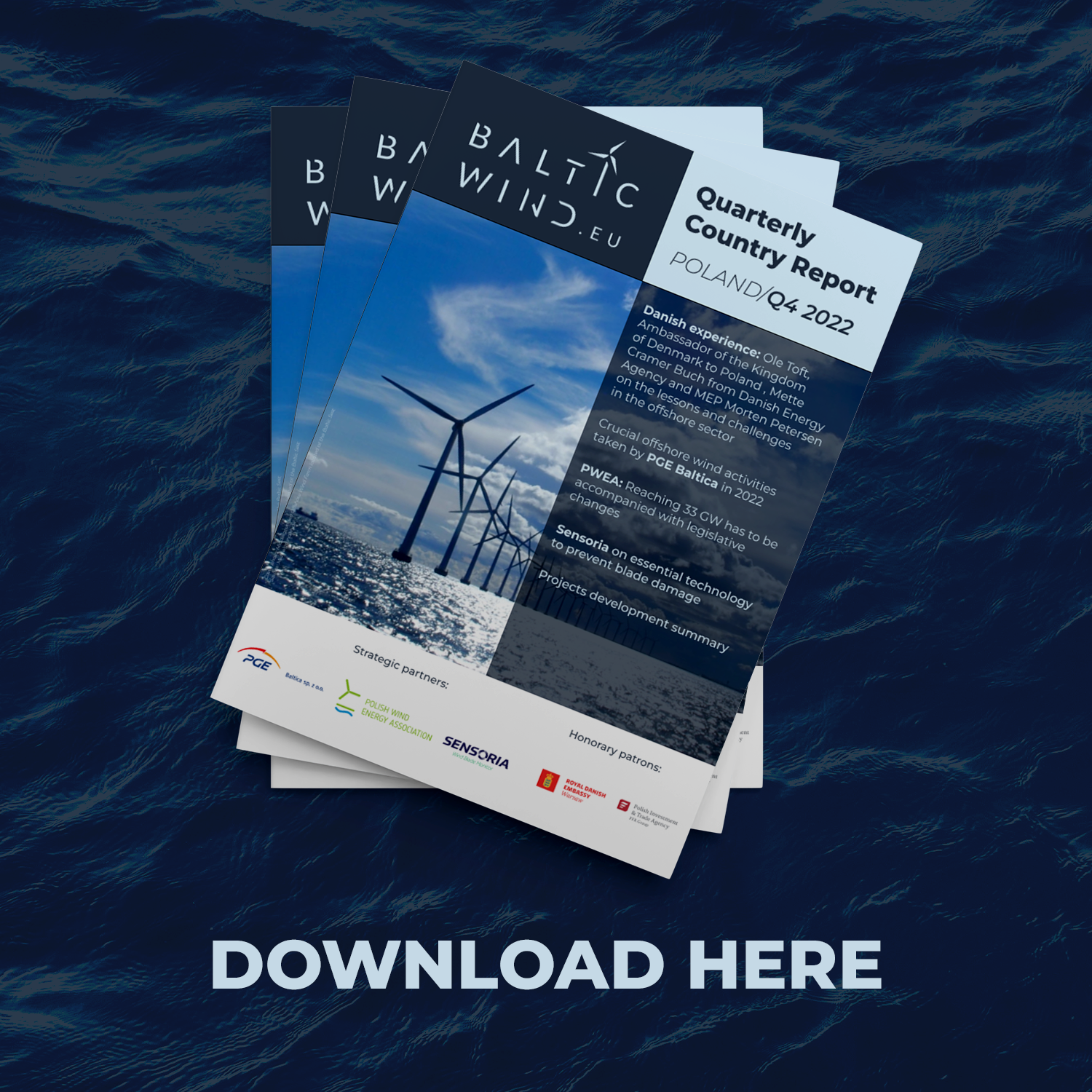 Dear Readers,
I am pleased to present to you the next in a series of reports summarising the Polish offshore wind energy market.
In Q4 2022, energy topics continued to be dominated by initiatives emphasising the need to accelerate the construction of offshore wind projects in order to strengthen energy security as a response to Russia's war in Ukraine. The reason for it is also the ongoing energy crisis, which brings a fair amount of anxiety in the energy markets for consumers, power generators and investors in new wind capacity projects. The answer is EU market reforms to accelerate RES projects both on water and on land. These affect all EU countries – in this report we zoom in on the details of the upcoming changes.
From the beginning, we have paid particular attention to the need to transfer best practices from the most experienced markets to the Baltic. This is extremely important given the still small number of operational wind farms in the Baltic Sea and at the same time the extremely high expectations (almost 20 GW in 2030). Therefore, we continue our series in which we zoom in on experiences of the most mature markets. In the current report, we showcase the experience of Denmark, which is the undisputed pioneer of offshore wind energy.
I would like to thank the Royal Danish Embassy in Poland for its patronage of this report and for its assistance in preparing the material. I strongly encourage you to read this part of the report, headed by an interview with the Danish Ambassador to Poland, Ole Toft.
As announced in previous reports, we are closely following the implementation of the Polish offshore wind sectoral agreement, the so-called 'Sector Deal', and the development of individual projects. We spoke to Ireneusz Zyska, Deputy Minister for Climate and Environment, Government Plenipotentiary for Renewable Energy Sources, about details from the past year's perspective.
I encourage you to read on!
Paweł Wróbel
Managing Director, BalticWind.EU
Please share your email address below to receive the BalticWind.EU  Quarterly Report POLAND Q4 2022 into your mailbox.