Dear Readers,
We are pleased to present you with the first of a series of quarterly reports summarizing the offshore wind energy market in a country approach. We are starting with Poland. The choice is not accidental – in the passing quarter, a sector agreement was signed in Warsaw. It sets a roadmap for preparations to build a new sector of the economy. We are convinced that despite many difficulties and challenges, that are yet to be faced by the wind energy sector in Poland, the day of signing, i.e. 15 September, will go down in history as a milestone for the acceleration of the construction of this new industry branch in Poland.
We will closely follow as the agreement fills with content. On one hand, projects of offshore developers and their business partners – which we report in the second part of the publication. On the other hand – a number of stakeholders, who have to do their job well to ensure that in a few years millions of sockets will be filled with electricity produced by the wind of the Baltic Sea. Among the most important tasks is to ensure that ports are ready for the OWE sector – both for installation of wind farms and for later operation.
Therefore, the main topic of this report is the state of preparedness of Polish ports. We also write about the extremely important involvement of the Baltic Sea voivodeships of Pomerania and West Pomerania, where huge investments will take place. The importance of actions taken at the regional level is proven by the nomination of Karolina Lipińska, the leader of Pomeranian preparations for the development of offshore wind energy, to the final of the Woman in Energy competition organized by the European Commission as part of the European Sustainable Development Week.
In the next reports, we will also be following the development and preparation of the shipbuilding industry, the state of the grid infrastructure necessary to connect wind farms to the power system, as well as the state of preparations of the education system and units responsible for training human resources. We hope that in the next country reports we will be able to provide a similar dose of optimism that is blowing from the Baltic Sea.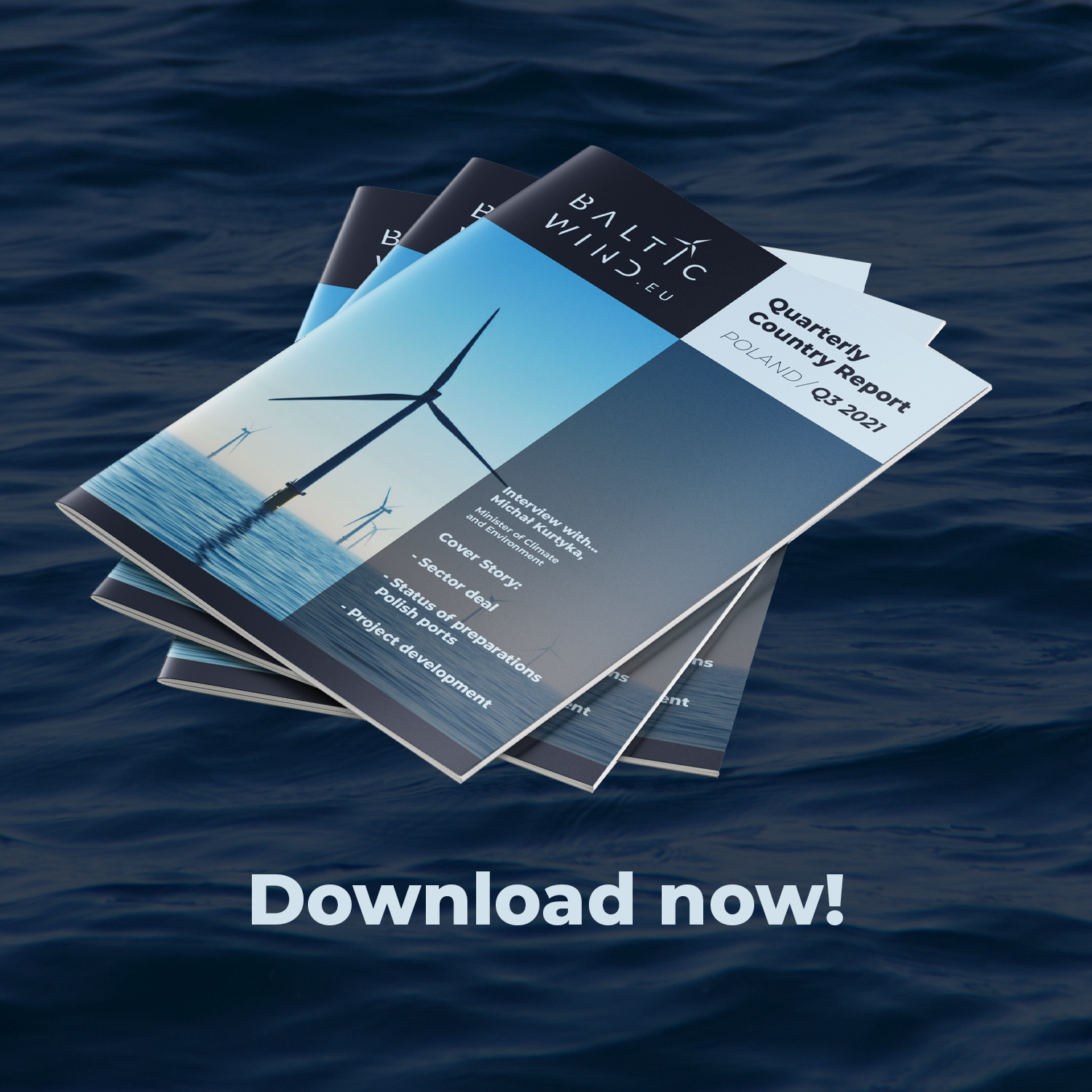 To receive the BalticWind.EU Poland Quarterly Report Poland Q3 2021
please share your email address below.