According to the latest Global Wind Energy Council (GWEC) report, the wind industry noted its second best year in terms of new installed capacity. Experts estimate that scaling up development to realize climate neutrality requires a breakthrough in national policies.
In 2021, the wind energy industry had the second best year in its history. Globally, nearly 94 GW of capacity has been added, despite it being the second year of the COVID-19 pandemic. That's only by 1.8 percent less than the annual growth in wind power capacity in 2020. This is a clear sign of the remarkable resilience and growth trend of the global wind energy sector, the GWEC report says.
On the one hand, this is not optimistic data. This growth must quadruple by the end of 2030 if the world is to meet climate neutrality goals by 2050.
Total cumulative wind capacity was 837 GW, up 12 percent year-over-year. While the world's two largest markets, China and the U.S., installed less new onshore wind capacity last year – 30.7 GW and 12.7 GW, respectively – other regions saw record increases. Europe, Latin America, and Africa and the Middle East increased new onshore installations by 19 percent, 27 percent, and 120 percent, respectively.
Auctioned wind power capacity increased by 153 percent, with a total of 88 GW of installations supported worldwide.
The CAGR for wind installations over the next five years is 6.6 percent, equivalent to 557 GW of projected installations between 2022 and 2026.
A fruitful year for offshore wind energy
The offshore wind market recorded its best year ever. In 2021, 21.1 GW of offshore wind farms came online. This is three times more than the previous year. China's huge year of offshore installations accounted for 80 percent of global growth, allowing the country to overtake the UK as the world's largest offshore wind market in terms of total wind installations.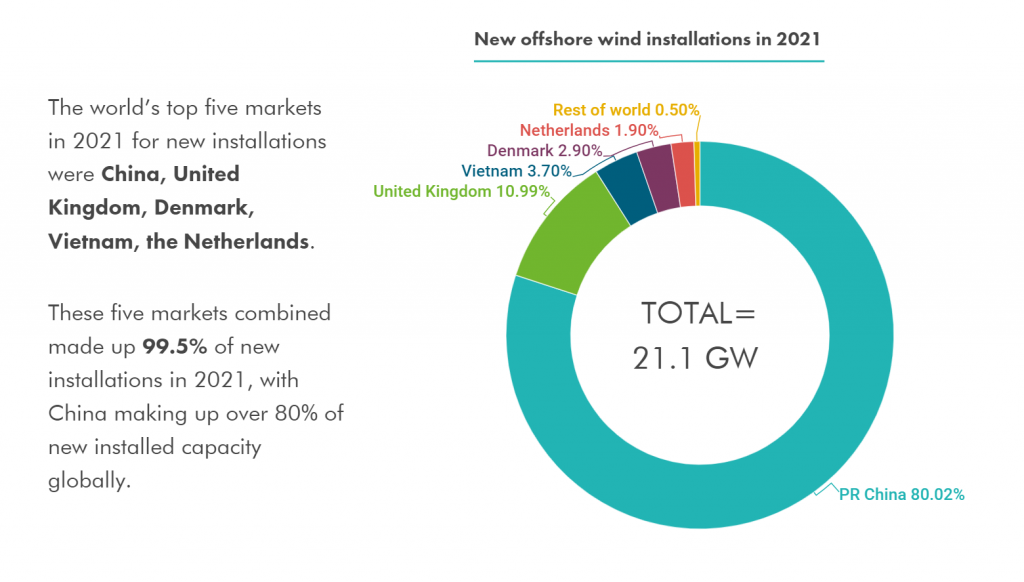 – The wind industry continues to take action and deliver results, but increasing growth to the levels required to achieve climate neutrality and ensure energy security will require a new, more proactive approach to policymaking around the world…. The last 12 months should be a huge wake-up call that we need to move decisively forward and transition to 21st century energy systems based on RES, comments Ben Backwell, CEO of GWEC.
GWEC Market Intelligence predicts that at current installation rates, we will have less than two-thirds of the wind energy capacity required to achieve climate neutrality by 2030.
The current global situation means that energy policy can be volatile. New policy initiatives must translate into more wind installations to ensure energy security.
Source: GWEC