The County Administrative Board of Skåne has granted the energy company Ørsted a permit for construction and operation of Skåne Havsvindpark in connection with a Natura 2000 area south of Skåne. Skåne Offshore Wind Farm can produce about 7 TWh of electricity, equivalent to half of Skåne's electricity consumption today. The County Administrative Board has previously recommended that the government grant permission for the wind farm.
– This is a very important and positive message from the County Administrative Board, now there is nothing to stop the government from giving its approval for Skåne Offshore Wind Farm. If we get a quick decision this year, the wind farm can deliver cheaper locally produced and reliable electricity as early as 2029 and help meet Sweden's Sweden's rapidly growing electricity needs," says Sebastian Hald Buhl, Head of Sweden at Ørsted.
Skåne Havsvindpark is located 22 km south of Ystad and Trelleborg, close to Natura 2000 area of Southwest Skåne, which was established to protect
nature interests. The County Administrative Board of Skåne, which has been mandated by the Government to prepare Ørsted's application to build an offshore wind farm in the sea in Sweden's economic zone, announced in December 2022 that it considers that the offshore wind farm can permit. One condition was a positive outcome of the Natura 2000 assessment, which the county administrative board has now confirmed.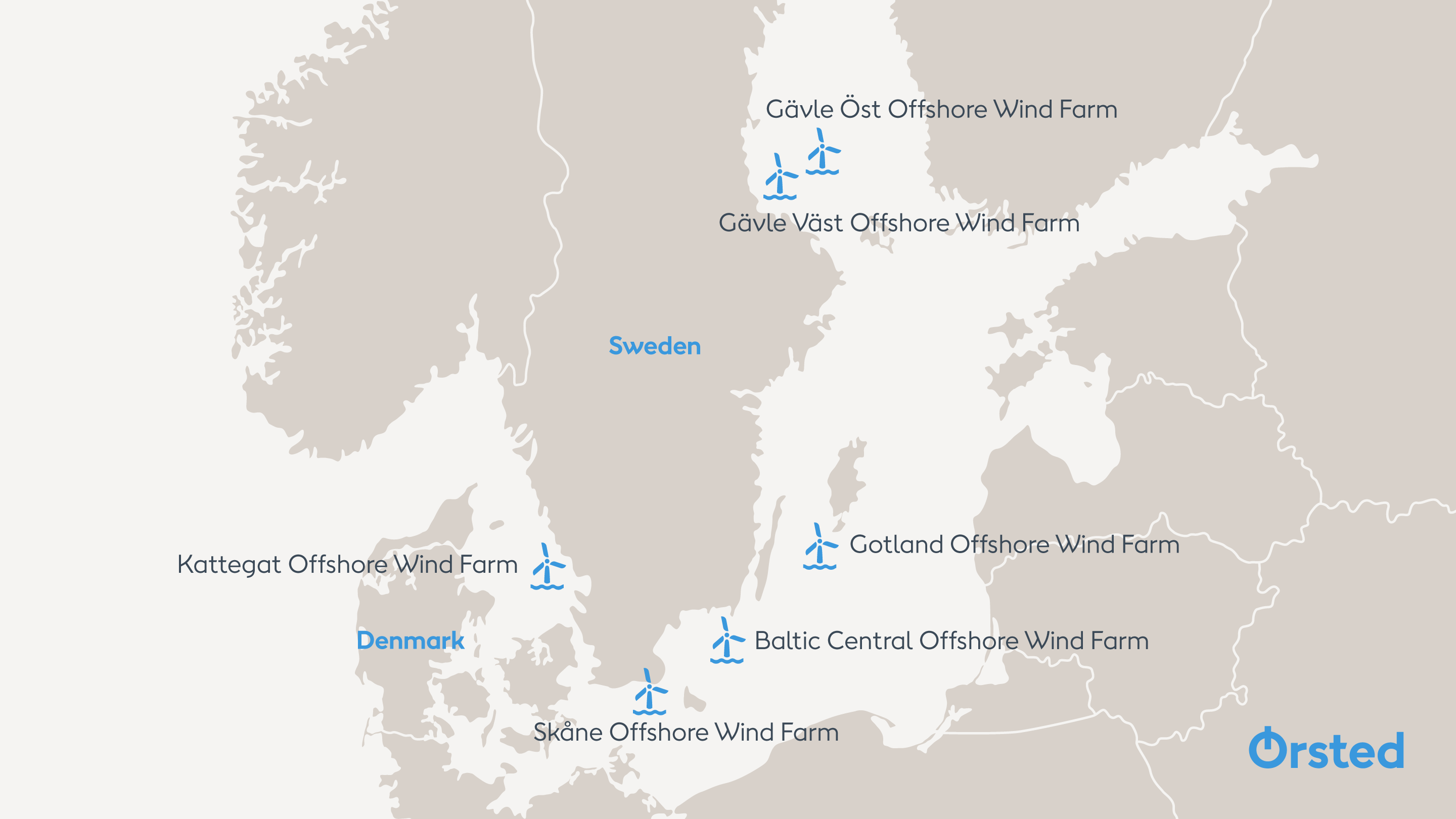 – The decision shows that it is possible to combine high nature values with fossil-free electricity production at sea. For several years we have carried out a large number of studies on potential impact of the wind farm. Now the work has been reviewed by the County Administrative Board and some 30 authorities, municipalities and interest groups, and we are happy that they have come to the same conclusion as us," says Jesper Kühn Olesen, project director for Ørsted's offshore wind farms in Sweden

Ørsted has an industry-leading target of a net positive impact on biodiversity by 2030 at the latest, which also applies to the company's Swedish projects. Skåne Offshore Wind Farm, with an installed capacity of 1.5 GW, is the furthest along in the permitting process of Ørsted's planned wind power projects in Sweden.

– This is important for both households and businesses in southern Sweden. Offshore wind power puts pressure on electricity prices and secures access to fossil-free electricity to meet climate change. After the County Administrative Board's decision, we are a big step closer to the Skåne Offshore Wind Farm, says Sebastian Hald Buhl.
A study by Energiforsk has shown that the price of electricity in southern Sweden (electricity area SE4) in autumn 2021 could have been 30-50% lower with 3.5 GW of offshore wind power installed in the region.
– It is very positive that the government has a clear priority to rapidly increase electricity production. It is gratifying that offshore wind power is welcomed
by the government as part of Sweden's future power system. More local electricity production in southern Sweden will reduce dependence on imported
fossil fuels and thus contribute to Sweden's overall defence, says Sebastian Hald Buhl.
Ørsted is developing a total of 6 offshore wind farms in Sweden. In addition to Skåne Havsvindpark and Gotland Havsvindpark, the energy company announced that four additional offshore wind farms are planned in the western, southern and central Sweden where there is a great need for increased electricity production.
Source: Ørsted