On the occasion of the 2021 World Ocean Day, over 70 IRENA members and private sector representatives came together in a Collaborative Framework on Ocean Energy and Offshore Renewables to accelerate the deployment of ocean technologies worldwide. Energy from the sea and through offshore renewables is increasingly recognised as significant climate solution for the power sector and end use in a blue economy such as shipping, cooling and water desalination. However, the potential of offshore renewables is still untapped and can significantly contribute to the global energy transition.
IRENA is forecasting a growth of offshore wind potential from 34 gigawatts (GW) today to around 380 GW in 2030.  "The important role for offshore renewables is reflected in the agenda of the current G20 Presidency" – said IRENA's Director-General Francesco La Camera at the opening of the event. "IRENA is pleased to support the G20 Presidency in this effort, and we are engaging the Collaborative Framework to provide input to the G20 Offshore Renewables Action Agenda." – he added.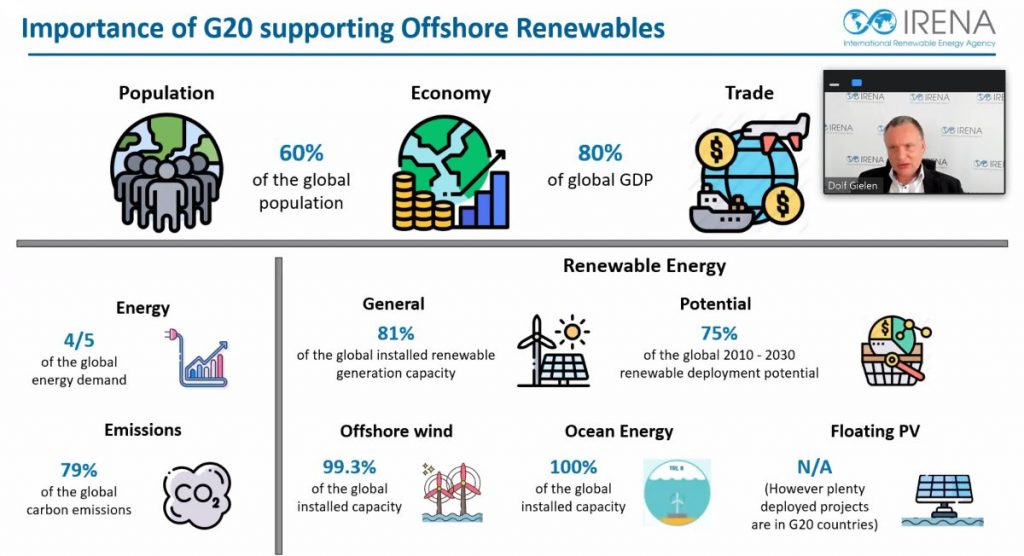 IRENA members see G20 in a leading position regarding the development of renewable energy. Collectively, G20 countries account for 81% of installed renewables and 75% of deployment potential till 2030. They also provide 99% of offshore wind and 100% of installed ocean energy.  IRENA's contribution and report to the G20 Action Agenda on Offshore Renewables will be released at the G20 Environment, Climate and Energy Ministerial meeting on 23 July in Naples.
Source: IRENA