According to the Port of Roenne, all XXL foundations for the wind turbines on the Arcardis Ost 1 power plant have been stored at the Port of Roenne. DEME Offshore is responsible for their installation. The ship Orion is already in the port of Roenne.
28 XXL monopiles are slated for the installation of 27 offshore wind turbines and one transformer station that will make up the Arcadis Ost 1 offshore wind farm. Production of these XXL monopiles began in August 2021 at Steelwind's Nordenham plant. The OSS monopile, which was one of the first to be transported to the Port of Roenne base, weighs just over 2,100 tonnes, measures 110 m and has a diameter of 9.6 m, making it one of the largest monopiles in offshore wind history and the largest in Europe. WTG monopiles weigh 2,000 tonnes, measure 100m and have a diameter of 9.4m.
DEME Offshore will begin shipping monopiles in June 2022. For the first time, this will be done using the new Orion installation vessel. The revolutionary offshore wind farm installation vessel officially joined the fleet on 30 April 2022. Orion is equipped with a powerful 5,000-ton crane and is designed to handle the massive turbines and foundations of the future. The vessel, with a total installed capacity of 44,180 kW and a length of 216.5 m, has a large, unobstructed deck and a maximized carrying capacity to handle the heaviest components. According to AIS data, Orion is already in port.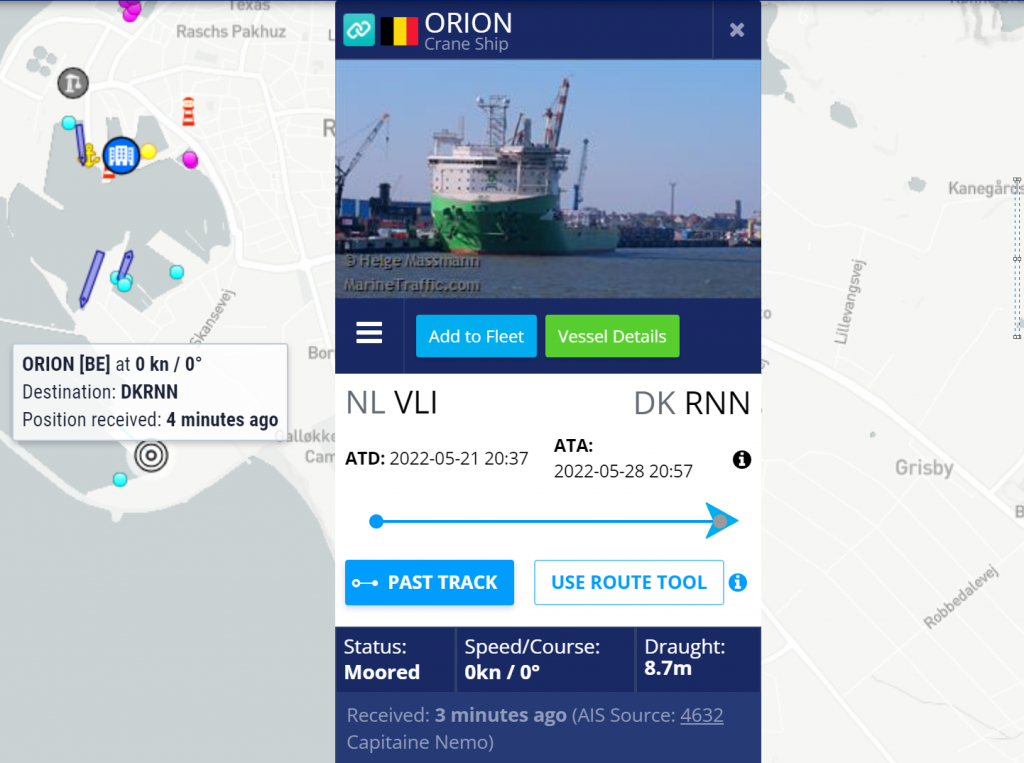 "We are very excited because this is a new ship, the largest foundations we have ever installed, a very demanding project and a lot of people who have to work together to make everything a success", comments Mathieu Holvoet, Project Director.
Arcadis Ost 1 is a 257 MW offshore wind farm located in the German territorial waters of the Baltic Sea, northeast of the island of Rügen. The Arcadis Ost 1 farm is being developed by Parkwind with the participation of PMV and OstseeWindEnergie GmbH, a project company of three partners: Oberhessische Versorgungsbetriebe AG, Stadtwerke Bad Vilbel and WV Energie AG. The wind farm will begin operations in 2023 and will provide enough green energy to power 290,000 households