Finnish company Metsähallitus has announced that the developer of the Korsnäs wind farm will hold its first meetings with local residents in early December 2021. This will be the second offshore wind farm operating in Finland.
The local dialogue with residents is about the offshore wind farm that will be installed near the municipality of Korsnäs, 15 km off its coast. The municipality approved the draft plans for the offshore farm in the fall of 2020. Now it's time for discussions with residents. The planning work, the permitting process and the construction of the wind farm could take several years. The installation will consist of about 70-100 turbines, with a unit capacity of 12-20 MW. The nominal capacity of the wind farm will reach 1.3 GW. According to the schedule, the construction of the power plant will be completed around 2028. The wind park will produce about 5,000 GWh of emission-free electricity per year.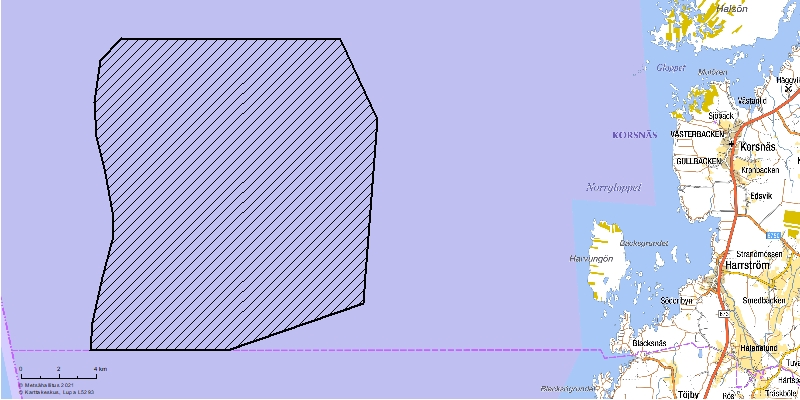 Korsnäs offshore wind farm | Graphics: Metsähallitus
Metsähallitus has plans to open an office in Korsnäs. The office will be both a place where the investor can present the project and a base for people working on the project. Bilingual experts are currently being sought to work in the office.
The developer's goal is to coordinate the requirements of both the local community and the protection of natural assets. The preservation of biodiversity is key, which is why the project area was initially moved further out to sea, away from the area designated for wind turbines in the regional plan. As the developer states in the announcement, this change was important for bird migration routes, preservation of pristine reefs in shallow waters, and for the scenic value of the UNESCO World Heritage area.
Work on the offshore farm's environmental impact assessment (EIA) will begin in spring 2022. Metsähallitus has already surveyed herring populations on spawning grounds, supplementing the work with surveys of fishermen to gain an accurate understanding of fish movements. Wind measurements will also begin in the fall of 2021 using a mast that will be installed once permits are obtained.
The search for a partner for the project is ongoing
Metsähallitus is currently looking for a partner to implement the project. What matters to the Finnish company is experience and knowledge. Criteria related to social responsibility will also be crucial in selecting an investor. Metsähallitus will be a tenant, as its tasks include management and development of land and sea areas belonging to the state.