Baltic Power has obtained a construction permit for an offshore connection. The decision was announced by the Pomeranian governor. Baltic Power's offshore wind farm will consist of 76 turbines with a unit capacity of 15 MW and height of more than 200 meters operating in an area of approx. 130 km2. The farm will be located about 23 kilometers from the coast, at the height of Choczew and Łeba, where the farm's service port will be built.
According to the governor's notice, the decision was issued on a request dated 20/12/2022 and filed by investor Baltic Power Sp. z o. o. with no objections to the planned investment received during the proceedings.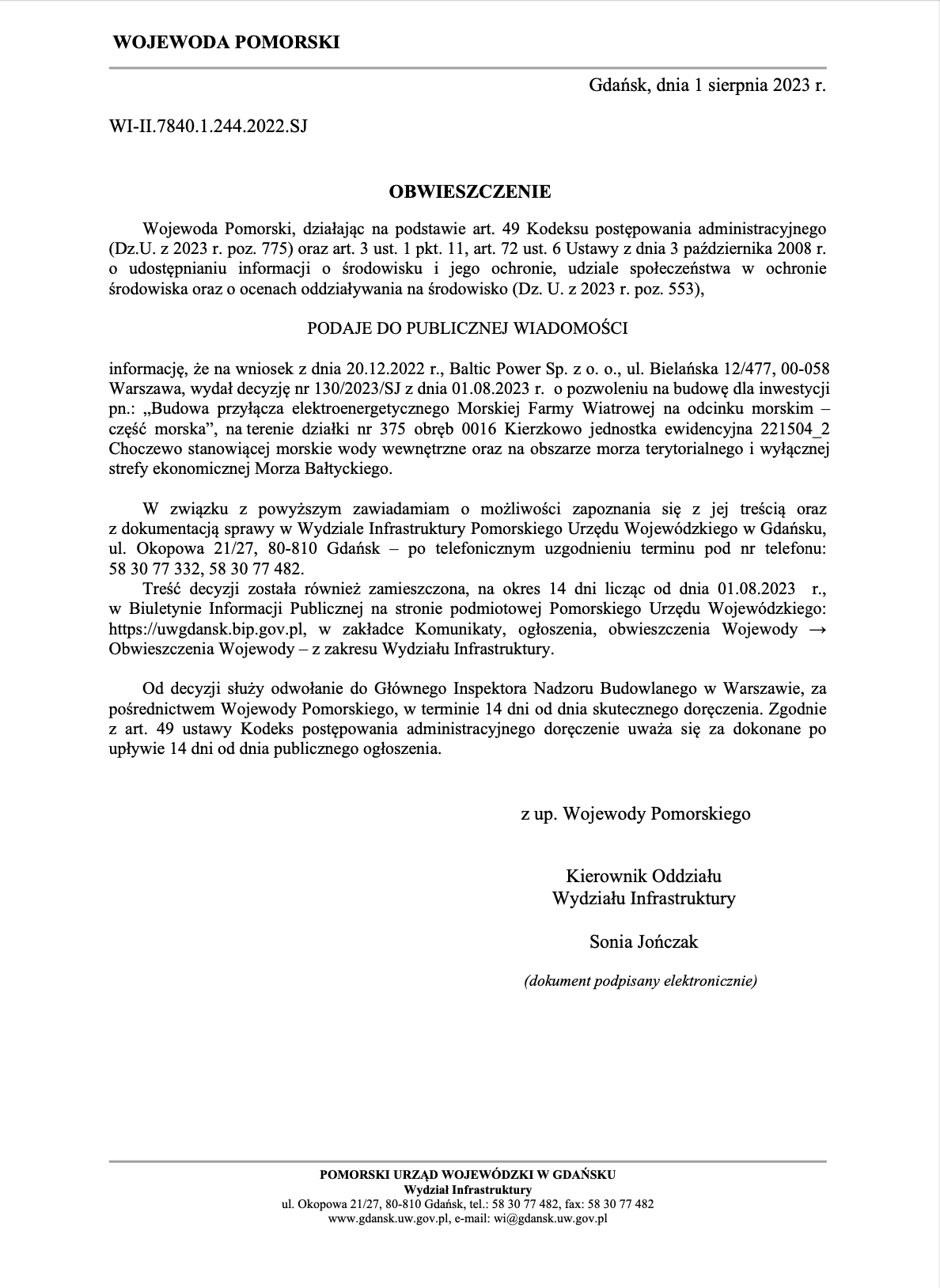 Baltic Power is currently the most advanced offshore wind farm project in Poland. The company ended 2022 by fully securing contracts for all key components required for the wind farm as part of its planned supply chain. In 2023, with all environmental decisions and construction permits secured, Baltic Power begins its first onshore construction work.
In May of this year, as we reported in BalticWind.EU, ORLEN Group and Northland Power have already begun construction of an onshore substation in the municipality of Choczewo, which will allow Baltic Power to receive energy generated offshore by the wind farm.
The entire infrastructure accompanying the Baltic Power farm was designed to minimize the investment's environmental impact. The substation, which is the onshore part of the Baltic Power wind farm, will serve as a hub for cable lines transmitting electricity from offshore substations nearly 30 kilometers away. Almost the entire route of the approx. 7-kilometer land section of the cable will be led underground. This also applies to the beach – thanks to the use of the so-called guided drilling, the power output to land will be routed at a depth of approx. 10 meters underground. This will make it invisible and will not affect the ability to use the beach. The course of the overland cable route was designed so that the investment interferes minimally with the natural environment and bypasses valuable natural areas.
According to the schedule, the first offshore installation work will begin in 2024. At the same time, in 2022, ORLEN Group has made a strategic decision to build Poland's first offshore wind farm installation terminal. The investment is being carried out in the port of Świnoujscie and will be one of the most modern terminals in Europe when completed in late 2024/2025. Its wharves and storage yards will allow for the transportation and installation of state-of-the-art wind turbines of 15 MW and above. Once completed, the farm will be able to supply more than 1.5 million households with clean energy.
Source: Pomeranian Governor & BalticWind.EU