Estonian energy group Eesti Energia announced on Wednesday that it will discontinue producing electricity from oil shale by 2030 and will focus on developing offshore wind farms, energy storage systems and producing oil from waste based on the principles of circular economy in the future.
Eesti Energia CEO Hando Sutter said at a presentation on Wednesday that the group plans to achieve carbon neutrality by 2045. 
While the production of electricity from oil shale will end by 2025, the use of retort gas generated in the process of the production of shale oil for the production of electricity will continue until 2030, the CEO said. 
The group also plans to transform Enefit Power into a chemical industry company that will produce raw materials for the chemical industry from used tires, plastic and shale oil.
"We believe that electrification, i.e. wider use of green electricity in transport, housing and industrial processes, is the best and fastest way to reduce CO2 emissions in Estonia and in the world. Over the next five years, Eesti Energia will increase its renewable electricity generation capacity two-and-a-half-fold," explained Hando Sutter, Chairman of the Management Board of Eesti Energia.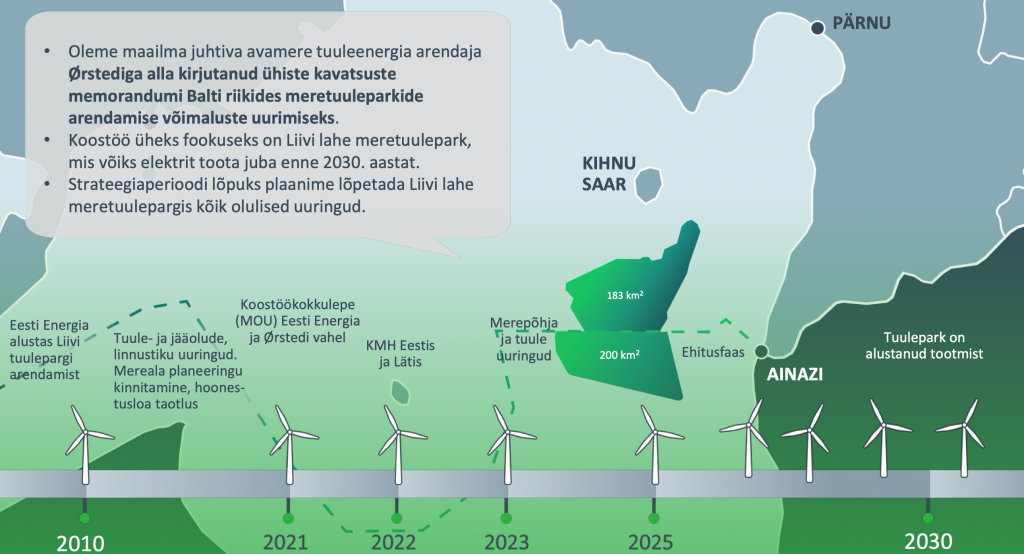 The group plans to cover 90 percent of Estonia's total energy needs by means of energy produced from renewable sources within 10 years.
Estonia and Latvia are considering a joint 700-1000 MW offshore wind farm (ELWIND) project to be completed until 2030. Taking into account that the investment would involve two countries, it could be classified as a regional project with the possibility of future financing from CEF RES (The Connecting Europe Facility of Renewable Energy). Details and terms of financing the investment are to be known after 2022.
On September 18, 2020, the energy ministries of Estonia and Latvia signed a memorandum of understanding, under which both countries plan a joint offshore wind farm with a capacity of up to 1000 MW until 2030. The construction of an offshore wind farm is also planned by Eesti Energia and Ørsted, which signed in 2021 agreement on cooperation.
source: www.baltictimes.com & www.energia.ee