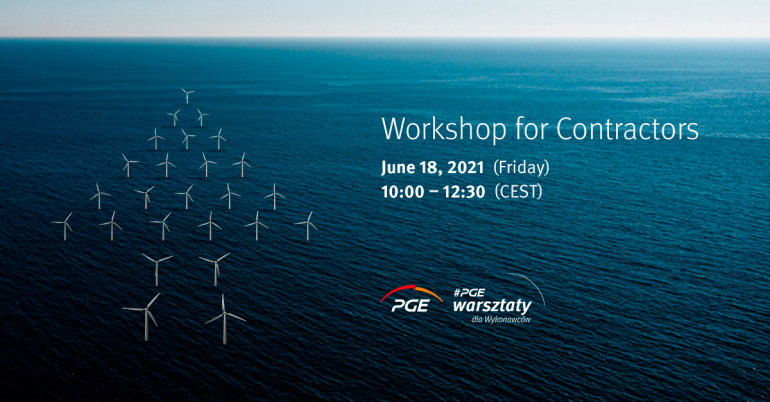 PGE Group: Harness the strength of Baltic wind. Develop wind farms with us
June 18, 2021 10:00 am

-

12:30 pm
PGE Polska Grupa Energetyczna has extended an invitation to potential contractors to participate in online workshops on 18 June 2021. The branding campaign "Harness the strength of Baltic wind. Develop wind farms with us" encourages Polish firms to participate in PGE Group's flagship investment project.
The offshore workshops will be held online on 18 June 2021. The meeting will be dedicated to discussing issues such as: offshore wind potential in Poland, port infrastructure, status of work on PGE's offshore projects, along with a presentation of PGE's procurement website, intended to make it easier for potential contractors to participate in tenders organised by PGE. The offshore workshops are a series of meetings with potential contractors for PGE's strategic investment. After the first series of meetings with firms related to district heating and onshore renewables, this workshop cycle is addressed to potential contactors for PGE's investments aligned with PGE Group's strategy.
PGE has prepared the second edition of the branding campaign "Power of Baltic wind in your home," this one entitled "Harness the strength of Baltic wind. Develop wind farms with us," in order to encourage businesses to participate in the workshops and join this Polish offshore project. PGE Group's flagship project – offshore wind – is presented in a television spot. The ad invites contractors wishing to participate in the development of the Polish offshore wind sector to attend the online workshops for contractors.
Communication activities began on 1 June and will end on 16 June of this year. A registration form was launched on 10 June for workshop participants wishing to join a database of entities interested in becoming involved in PGE's offshore program.
The advertising campaign is being delivered in print, online and on VOD platforms as well as via PGE Group's social media channels and is in the form of a 15-second spot and a display ad. Publicis was in charge of producing the spot and preparing the campaign materials.
More information on the workshops and the registration form are available in a dedicated section: https://www.gkpge.pl/warsztaty-offshore. A link to the broadcast will be made available 24 hours prior to the event.
Link to the ad on YouTube: https://www.youtube.com/watch?v=s0OcqsDpfh4