The Swedish Wind Energy Association (Svensk Vindenergi) is positive about the government's recent decision to develop offshore plans for the offshore wind sector. According to the organization, the level of ambition should be higher and the decision makers themselves should be mindful of technological advances.
Offshore plans have selected areas where 20-30 TWh of offshore wind energy can be produced. The government has also tasked the Swedish Energy Agency with identifying areas, by March 2023, where another 90 TWh of volume can be obtained, which will allow offshore plans to be revised by 2024.
The government also presented a draft law on simplified permitting procedures for wind energy in February 2022 and announced that a study on municipal wind energy incentives will be established.
– We already expected a higher level of ambition. Industrial climate transformation means that demand for electricity is increasing rapidly. The established offshore plans do not provide space for all the electricity generation needed to meet this demand, explains Lina Kinning, Offshore Wind Energy Director in Svensk Vindenergi.
She argues that it is important to consider the development of wind energy technology. The offshore plans assume that wind turbines can be built at depths of up to 40 meters, while they can be installed at depths of at least 60-70 meters. Floating wind platform technology also offers a lot of opportunity.
More than €117 billion of investments in wind energy between 2017 and 2024
Wind energy, onshore and offshore, is to be one of the cornerstones of Sweden's energy transition. Since the Energy Agreement was concluded in 2016, wind energy investments with a total value of more than SEK 117 billion have been decided or announced. According to SVEA estimates, when all the new wind turbines come online in 2024, wind electricity will account for more than a third of Sweden's energy consumption.
Projects that have been decided or announced to be implemented between 2017 and 2024 include 2348 wind turbines with a total capacity of 10,411 MW, which will produce 33.8 TWh.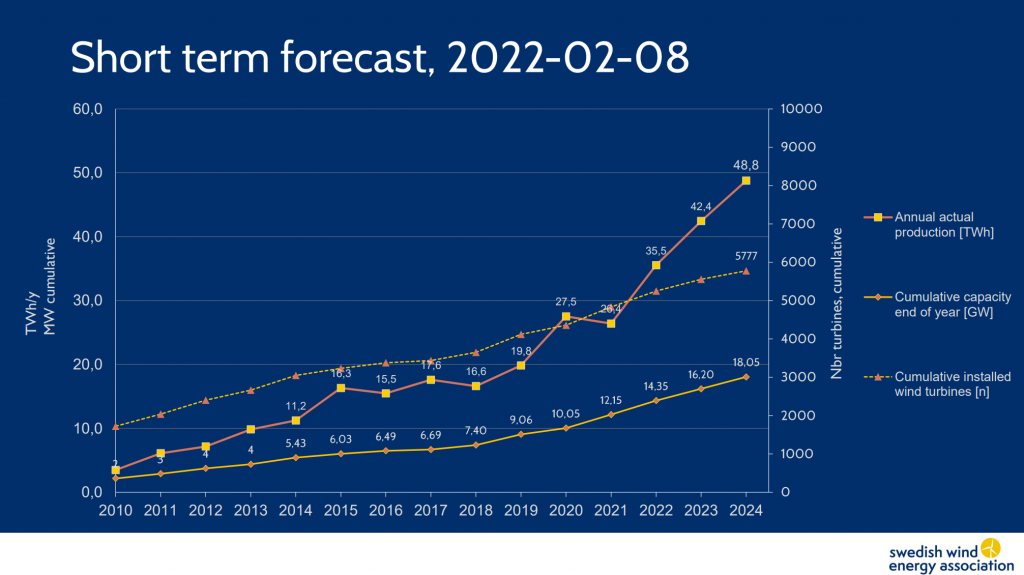 According to the latest wind power development forecast by Svensk Vindenergi, wind power in Sweden will provide approximately 48.8 TWh (33.7 percent of consumption and 26.5 percent of electricity production) in 2024. The latest short-term forecast from the Swedish Energy Agency predicts that in 2024, total electricity generation will be 184.1 TWh and electricity consumption will be 144.5 TWh.
Source: Swedish Wind Energy Association